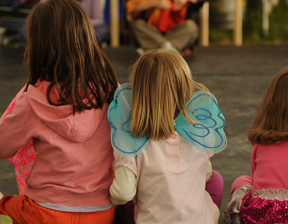 Fringe for Families
While Fringe shows with titles such as Dicky Dicky, Can't Argue With Pussy, and Deranged Dating aren't likely appropriate for children, there's no reason you can't enjoy whatever show you please.
For an afternoon off, register your children (ages 4-12) for a Saturday afternoon drama camp by Orleans Young Players teaching team.  There's no cost for parents with a 5- or 10-show pass.  More information about the Mini-Fringers program here.
Otherwise, see below a list of family friendly shows being performed at the 2014 Ottawa Fringe Festival. The ratings have been provided by the artists.