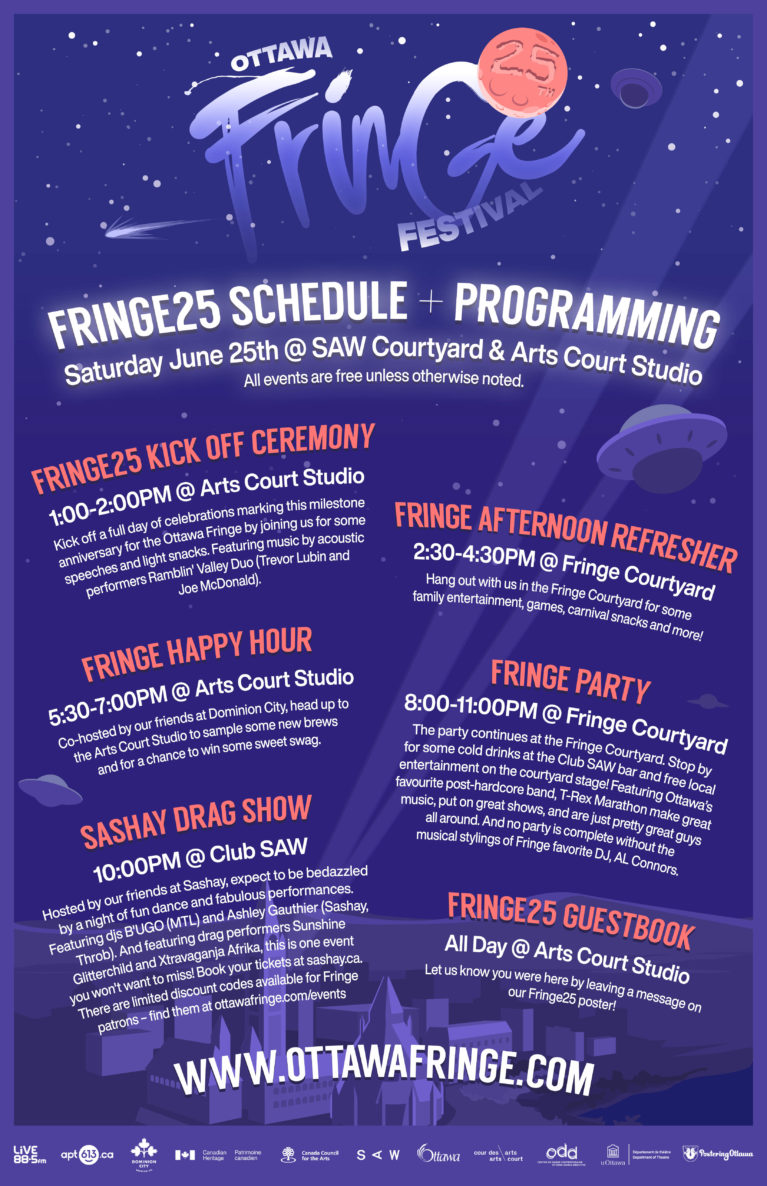 #Fringe25 on June 25th – a full day anniversary celebration!
Fringe25 Schedule + Programming
Date: Saturday June 25th
Locations: SAW Courtyard, Arts Court Studio
All events are free unless otherwise noted.
Fringe25 Kick Off Ceremony
Time: 1:00-2:30PM
Place: Arts Court Studio
Kick off a full day of celebrations marking this milestone anniversary for the Ottawa Fringe by joining us for some speeches and light snacks. Featuring music by acoustic performers Ramblin' Valley Duo (Trevor Lubin and Joe McDonald).
Fringe Afternoon Refresher
Time: 2:30-4:30PM
Place: Fringe Courtyard
Hang out with us in the Fringe Courtyard for some family entertainment, games, carnival snacks and more!
Fringe Happy Hour
Time: 5:30-7:00PM
Place: Arts Court Studio
Co-hosted by our friends at Dominion City, head up to the Arts Court Studio to sample some new brews and for a chance to win some sweet swag.
Fringe Party
Time: 8:00-11:00PM
Place: Fringe Courtyard
The party continues at the Fringe Courtyard. Stop by for some cold drinks at the Club SAW bar and free local entertainment on the courtyard stage! Featuring Ottawa's favourite post-hardcore band, T-Rex Marathon make great music, put on great shows, and are just pretty great guys all around. And no party is complete without the musical stylings of Fringe favorite DJ, AL Connors.
Sashay Drag Show
Time: 10:00PM
Place: Club SAW
Hosted by our friends at Sashay, expect to be bedazzled by a night of fun dance and fabulous performances. Featuring djs B'UGO (MTL) and Ashley Gauthier (Sashay, Throb). And featuring drag performers Sunshine Glitterchild and Xtravaganja Afrika, this is one event you won't want to miss! Book your tickets at sashay.ca. There are limited discount codes available for Fringe patrons – find them at ottawafringe.com/events
Fringe25 Guestbook
Time: All Day
Place: Arts Court Studio
Let us know you were here by leaving a message on our Fringe25 poster and snapping a photo against our out-of-this-world Fringe backdrop. Don't forget to tag us @ottawafringe!