Fringe Lookahead: Friday, June 28
Friday! Friday! (fun fun fun fun)
Last weekend of Fringe. One more chance to cram in all those great shows you've been hearing about. Time to make some tough decisions on what you won't be able to see. Also: partying partying. (yeah!)
WHAT'S HOT
Hot shows and sell outs last night included the final performance of The Bike Trip, May Can Theatre's Happiness, Dolores, Morning Star, Emissions: A Climate Comedy, We Glow, and Occupy Me.
That Red Bastard continues to climb up the advance ticket sales
And everyone is talking about Matchstick:
Dear fringers: go see Matchstick. The music, the conspiracy, and the drama make it well worth your time #ottfringe

— Olivia Staciwa (@ostaciwa) June 28, 2013
Just got out of Matchstick. Amazing! A must-see! Oh, and bring money in case you want to buy thier CD. #ottfringe

— Robyn Lester (@RobinRobynRob) June 28, 2013
Matchstick is a story not to be missed. I was captivated and charmed by the cast. Great talents. #ottfringe

— Debbie McClelland (@Dreamers_Touch) June 28, 2013

So maybe you need to make some time to see that one too?
THE COURTYARD
It's 90's Prom Night! Unlike many of you (I assume) my prom was actually in the 90s, so I'll probably just dig my old suit out of the closet. It'll totally still fit, right?
The fun starts at 9:00 pm. Music by DJ On Point.
PAT'S PICKS
This is the last one of these posts I'll be doing in 2013 – since Gregg handles the weekends. So for my last pick of the Fringe I recommend the Be A Man Story Slams. You may have heard about the accident that performer Antony Hall was in at the beginning of the festival. The guys had to cancel the remainder of their Ottawa run, but Fringe performers Cameryn Moore (slut (r)evolution), Jeff Leard (The Show Must Go On) and Chase Padgett (6 Guitars) have rallied together to make the rest of Be A Man performances benefit performances.
Cameryn's Smut Slam has come and gone (see what I did there?), but the final two are this weekend!
Saturday, June 29 at 4pm: Jeff Leard's Catastrophe Canyon: Tales of Sudden Calamity

Sunday, June 30 2:30pm: Chase Padgett's Altered States: Stories of Intoxication
SHAMLESS SELF-PROMOTION ALERT: I'll be participating the Sunday Slam. If you want to hear a story about a border crossing gone wrong, come on out Sunday afternoon.
Proceeds of each performance will be given to the Be A Man team to help recoup the costs of the cancellation. All performances are pay-what-you-can, and will be held in Arts Court Theatre.
PHOTO OF THE DAY
Just an astronaut hanging out with a dude in his underwear. No biggie.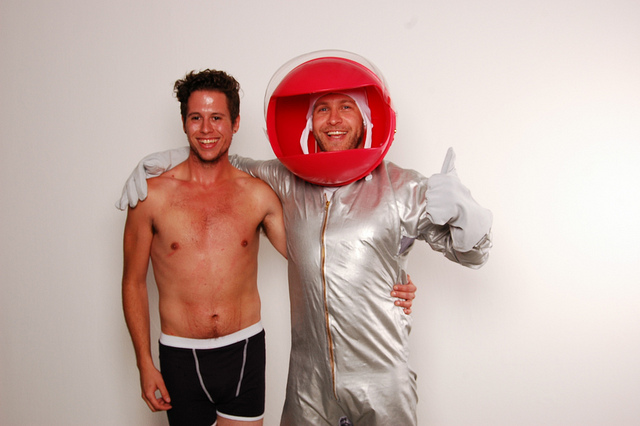 Happy Friday! Everybody's looking forward to the weekend!