Fringe Bootcamp 2020!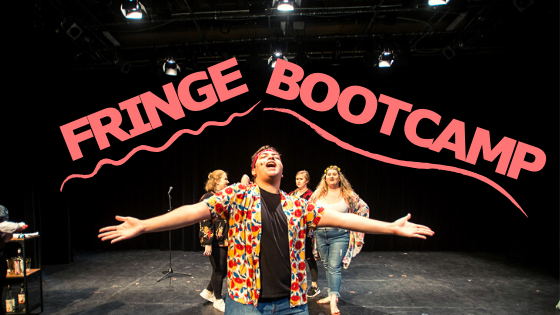 This spring, Ottawa Fringe is hosting Fringe Bootcamp!  – a weekly series of workshops designed to inspire creativity, and get you ready to rehearse. Take all three, or just what interests you.
Don't have a show in the Fringe Festival this year? No problem! These workshops are open to all, and are designed to be applied to any production you may be working on. 
Bootcamp! 2020 will focus on dramaturgy for new plays, director's preparation, and lighting design. Details about each session and workshop leaders can be found below.
All workshops will run 10:00am – 4:00pm in Arts Court Library. Each session is $25; or take all three for $60.
Questions? Send them to director@ottawafringe.com
Dramaturgy for Dummies
with Emily Pearlman
April 18, 2020
Someone you know has written a play – but it is not quite done. They want your help – but don't quite know what sort of help. In this workshop participants will explore new play development through dramaturgy: techniques for seeing and pointing at a playwright's patterns and preoccupations, developing a process specific to the project, and building a playwright/dramaturg relationship where mutual trust fosters creative risk.  
Emily Pearlman develops new work as a writer/performer and director/dramaturg. In the past 15 years she has been involved in the creation of 26 new plays in Ottawa, receiving five Prix Rideau Awards and nominated for 13 as a writer, performer and director. Passionate about teaching and mentorship, Emily is also an Artistic Associate with Theatre 4.669, professor at the University of Ottawa, and board member for Youth Infringement.
—
Director's Preparation  
with Patrick Gauthier
April 25, 2020
Festival Director Patrick Gauthier will help you get ready to direct your Fringe (or any) show, discussing the importance of preparation and collaboration in this directing intensive. Learn how you can be best prepared for rehearsals, and discover tips, tricks, and techniques for working with actors and designers in the rehearsal hall and the theatre!
Patrick Gauthier is a multiple award-winning playwright and director. He is Festival Director of the Ottawa Fringe, where he curates the undercurrents festival and produces the Ottawa Fringe Festival. Patrick is a graduate of the University of Ottawa Department of Theatre and holds an MFA in Directing for the Theatre from the University of British Columbia.
—
Show Control: using technology to get a bigger bang for your buck
with AL Connors
May 2, 2020
This workshop focuses on integrating different design elements in a way that creates the most impact AND keeps things easy for stage management to control. We'll look at specific designs from shows presented in Ottawa that include sound, lighting & projection, and examine the technical side of how they work. And then, we'll build a sequence that involves sound, lighting and projection together!
AL Connors is a multi-award winning designer, specializing in sound and video projection design, as well as show control automation, and he's the only anglophone sound designer to ever even be nominated in the history of the Les Prix Rideau Awards design category, with three nominations and two wins. His theatre work has been seen by tens of thousands of people in Ottawa and across Canada (and about a thousand people in China).