#OttFringe Shows of the Decade!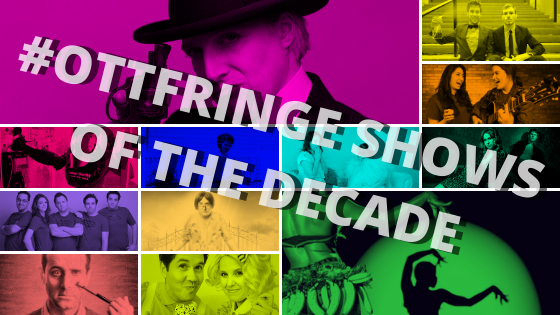 As we near the end of the decade, and reflect on the Best Movies or Top Songs of the 2010s, it made me think about the past ten years of the Ottawa Fringe.  
Prior to working for the Fringe, I was a Fringe-fanatic.  I loved to binge as many shows as possible, then hit the beer tent to talk about the good, the bad and the weird.  If you could have injected Fringe into me, I would have taken that option. 2014 was my first experience at the festival, and thinking about all the incredible shows I missed before discovering it hurts.  So, I decided to take a look back. That's right, I scoured through all media to find out what shows people talked about the most over the past ten years of #OttFringe! (A great use of staff time.)
Let's start with 2013's man-eating-couch in Dead Unicorn Ink's Chesterfield – a show that put DUI's puppetry on the map.  Other highlights from the beginning of the decade were Crush Improv's Spotlight On (2010), MayCan's Happiness™ (2013), and, of course, the iconic Roller Derby Saved My Soul by Fringe veteran Nancy Kenny (2011).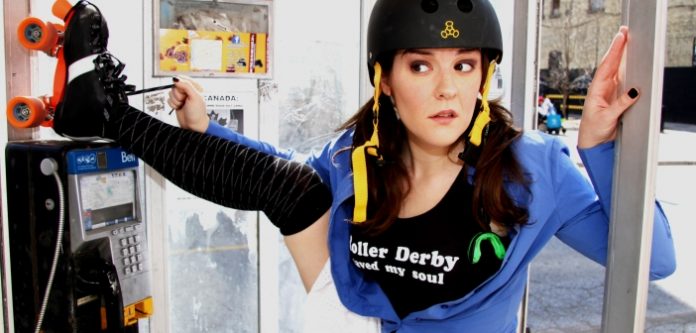 Photo credit: Richard GiLmore
As we hit the middle of the 2010s, Twitter quickly became the place to chat Fringe. In 2014 audiences buzzed about Concrete Drops' Moonlight After Midnight, SNAFU's Kitt & Jane, and Ray Besharah and Dave Brown's Dicky Dicky.  2015 brought us hits like Inescapable, The Elephant Girls and I Think My Boyfriend Should Have An Accent.  Aplombusrhombus' Cardinal also left its mark, being the most covered show of 2016.
In the last few years, emerging Ottawa artists stole the spotlight with productions of Lungs (2018), I Am The Most Unfeeling Doctor In The World (2019), Rhythm & Burgundy: The Comeback Tour (2017) and Lauren & Amanda Do It (2017, yes this is my own show, no shame, plug plug plug!!!). 
Now… the Most Memorable #OttFringe Shows of the Decade (aka the most talked about on medias).  In third is Dynamite Lunchbox Entertainment's Josephine, a burlesque cabaret dream play; in second is another appearance from Aplombusrhombus with Ethel; and in first is none other than Smith & Somers' HOOTENANNY!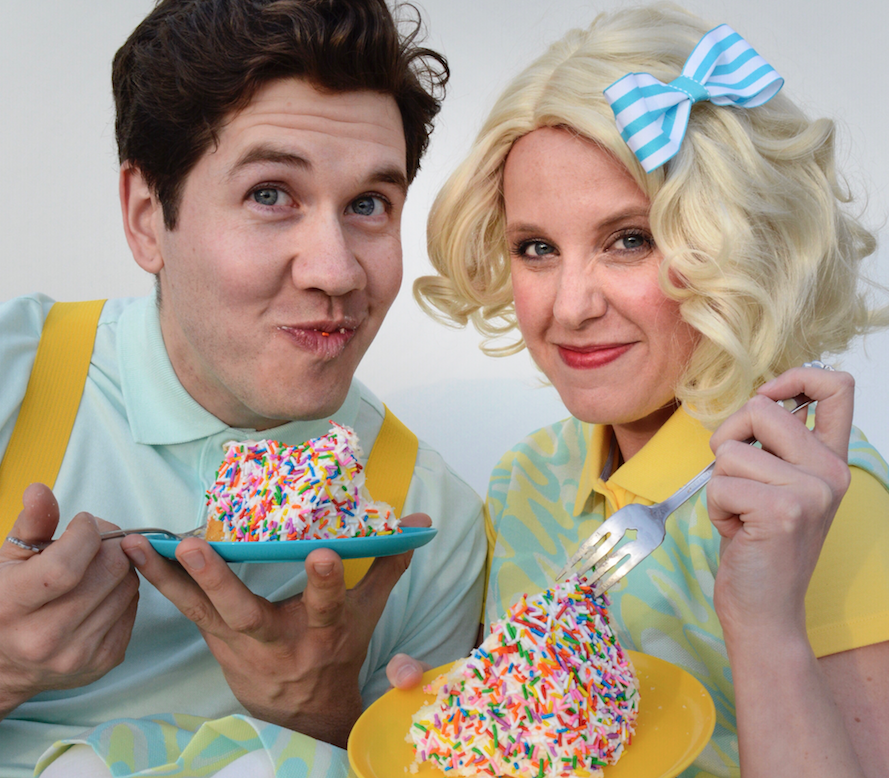 Photo Credit: Susie Shapiro Photography
OK – numbers aside, let's get some opinions in here!  We reached out to reviewers who have been around for the past ten years of Fringe, and here are their Top 5 Picks of the Decade!
Patrick Langston's (ArtsFile) Picks
Barb Popel's (apt613) Picks
Brian Carroll's (apt613) Picks
High Tea: Another British Comedy (2017)

The Elephant Girls (2015)

God is a Scottish Drag Queen (2019)

7 (x1) Samurai  (2010)

Assassinating Thomson (2013)

Fool Muun Komming! etc etc (2018)

The Inventor of All Things (2015)

Moonlight After Midnight (2014)

Paco V. Put to Sleep (2014)

Weird:  The Witches of Macbeth (2015)

The Inventor of All Things (2015)

Lungs (2018)

Movin' Melvin Brown (2017)

Othello (2014)

Paco V. Put to Sleep (2014)
Thanks for reading, make sure to add your personal picks below!  This theatre nerd is looking forward to another ten years of #OttFringe.  See you in 2020!
– Amanda Logan