Membership Months: Sean Devine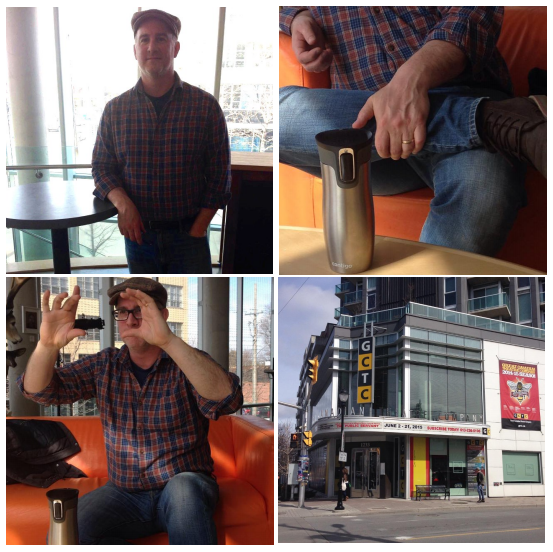 Playwright-in-residence at the Great Canadian Theatre Company
Co-Artistic Director of Horseshoes & Hand Grenades, Ottawa newcomers from Vancouver
Up next: Re:Union at Magnetic North Theatre Festival
Recently: Suit Up at subDevision
by Tony Adams
Late April in the Fritzi Gallery (at the GCTC, where he is also playwright-in-residence) I met with Sean Devine. While waiting on my teammate/our friend Jade Dolan, Sean got started asking me questions about the work I do and the shows I make. Listening to me blab for 10 or so minutes about a recent production, Happiness™, Sean already had some solid advice on how to make the show more adaptable, how to get it to festivals and which ones to go to, and where we can look for funding. I was so jaw-dropped by the amount of know-how he has, and how simple Sean makes it seem. Like a heart surgeon strolling into the operating room, "Yeah. Okay no worries, I got this." And if I continue this simile, he would operate and it would turn out great.
The thing I admire most about Sean, and it's been apparent since I first worked with him at Salamander Theatre, is that if he says he can do something, he will do it.
Once Jade arrived we turned the tables on Sean, which isn't hard because he's got a lot to say. We got to talking about his recent move to Ottawa and the big "but why?" People from Ottawa – myself included – tend to seem confused when others decide to make this government town their home. Aside from a desire to be closer to family, Sean has come here with a strong intent to make a mark in town producing for Horseshoes & Hand Grenades. While chatting he's very open about his aspirations and what H&HG would like to see in Ottawa. Sean talks about becoming an AD or GM for a theatre like the NAC or the GCTC. In a tight-knit community, he's situating H&HG as a regularly producing and integrated vessel, working on projects that extend beyond the theatre. Sean seems quite keen when he tells me the scene in Ottawa could become something that people from across the country come to know. H&HG see a lot of promise and opportunity here (or they wouldn't transplant from Vancouver, now would they?)
Producing in both cities now, H&HG are one of several companies producing at a high-caliber level in Vancouver. Though to my knowledge, Ottawa doesn't really have a company in H&HG's niche. They create work that challenges beliefs politically as well as personally.
"What is becoming of our world? What is my role in it? What can I do about it?" The sorts of questions a recent H&HG production brought to mind (Suit Up at subDevision).
H&HG produce big and with big messages. Often a piece revolves around a personal experience amongst large political actions, exemplified by Re:Union which will premiere at the Magnetic North Theatre Festival in June. A look at the story of Quaker Norman Morrison, a man who set himself on fire in front of the Pentagon in protest of the Vietnam War.
Since arriving to Ottawa, Sean and partner Alexa (Co-Artistic Director of H&HG) have jumped right into the deep end, premiering at the subDevision site-specific festival. Next month Sean will direct Re:Union at Mag North. It's an opportunity he seems excited for and to me seems like a perfect introduction and platform to show Ottawa what H&HG are capable of. If I may say so myself, we as a city are fortunate to have someone dedicated to creating socially and politically relevant work and I am thrilled to experience what Sean, Alexa, and H&HG bring to our scene.
www.horseshoesandhandgrenades.ca
---
May and June are Membership Months. We're checking in and catching up with as many new members as possible—as well as some who have been around before the first Ottawa Fringe Festival in 1997. If you're a creator, know that the Ottawa Fringe is here to support your work year-round. Visit ottawafringe.com/members for info.