Fringe Lookahead: Friday, June 21
Happy Friday! If you haven't figured it out already, we'll be doing one of these posts every morning for you early-morning Fringe keeners (or maybe you're a haven't-gone-to-bed-yet Fringe hero?). It's the first weekend of Fringe, and here's what's happening today.
WHAT'S HOT
Lots of buzz for the first night of Fringe shows. The Courtyard was packed – PACKED – for Preview Night, and people went to shows as well. Word is In the First Place (playing at the Bytown Museum) sold out its performance, and lots of turnout for Emissions: A Climate Comedy, My Second Smile, Under the Mango Tree, Be a Man, Chesterfield, and The Bureau of Bat Shit Crazy as well.
Oh, and also this:
Looks like the entire festival turned out to see Die Zombie Die! #ottfringe

— Erin MacDonald (@ErinMac147) June 21, 2013
Might want to get your tickets for that one early.
THE COURTYARD
It's Burlesque Night! Brought to us by Rockalily Burlesque, the show starts at 9:00 pm and will be followed by DJ AL Connors.
If you want to see what's coming up in the Courtyard for the rest of the week, head on over to our Courtyard page.
PAT'S PICK: What's On
Okay, so I still haven't seen any shows (which I plan to correct tonight). I have, however, been in the Courtyard for the past couple of nights and besides the beer (seven different beers on tap this year. Insanity!) I can't recommend Stone Soup Foodworks enough. If you were lucky enough to grab some of their food at the Kickoff party you know what I'm talking about. I was always a bit too slow that night, but happily paid for a taco last night. Probably the best food we've had at Fringe in years.
PHOTO OF THE DAY
This comes courtesy of Apartment 613′s Instagram feed: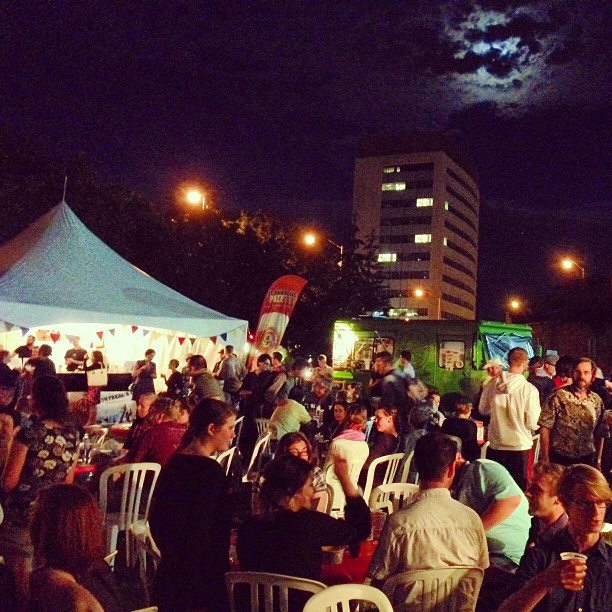 Happy Fringing!