Membership Months: Rachel Eugster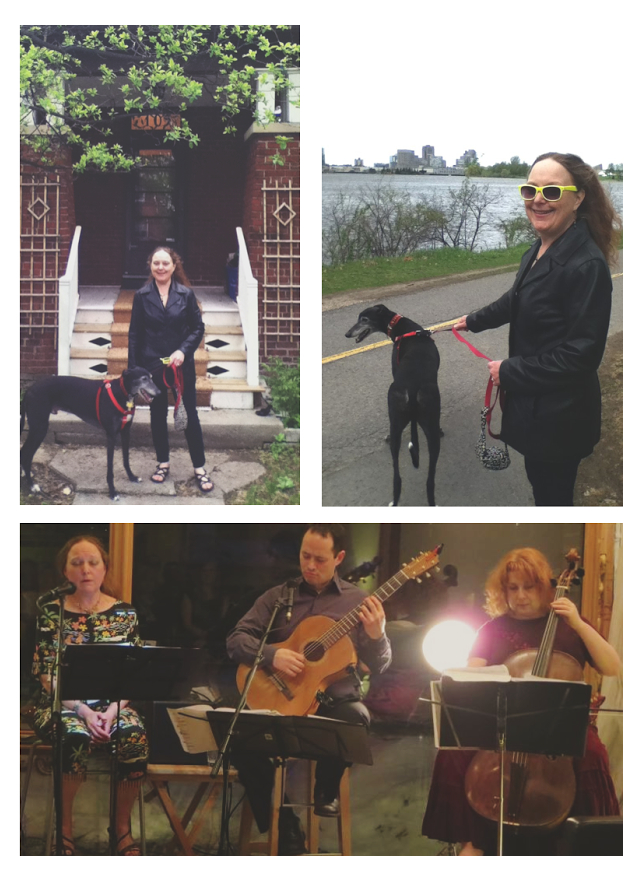 Jill of all trades and master of tons.
Artistic Director of new Spidersilk Productions and Co-AD of Bear & Co.
Up next: world premiere of Whose Aemilia? at the 2015 Ottawa Fringe Festival
Recently: Amanda in The Glass Menagerie, and as Alice in Age of Arousal (both Bear & Co. productions)
by Tony Adams
Hanging out with Rachel is like what you would expect at a fancy dinner party—where you talk about art and community—minus the pretentiousness and frequent lulls in conversation.
On a grey afternoon I was lucky enough to stroll about Hintonburg with the ever-lovely Rachel Eugster, and her greyhound Vallentine. One of my most favourite things is to chat with a seasoned artist and this is for two reasons: 1. they have a unique perspective and understanding of the scene and, 2. all you need to do is give that artist a spark and, just maybe, she or he could go on offering stories, insight, and advice. This was very true of Rachel, and I was just happy to walk along listening beside her.
Rachel has been a freelance writer for years, getting her start in Boston. She told me about one particularly interesting article about exploding frogs in Germany (ask her, it's great). But I know Rachel as a theatre artist, so was surprised to find out that the 2015 Ottawa Fringe Festival will mark her debut as a playwright, with Whose Aemilia?
What started out as curiosity—have you heard of Shakespeare's "Dark Lady," a woman who, apparently helped write some the Bard's best female characters?—has now become so much more. Aemilia Lanyer (that's her, the Dark Lady) was the first female poet to be published in England. Her views were considered radical for the times—extremely feminist, hundreds of years before the word "feminist"—and it is Rachel's undertaking to have audiences learn about Lanyer, someone who seems, rather suspiciously, to have been omitted from the pages of history. Well, not entirely redacted. Lanyer is alleged to have been a lover of Shakespeare's. But would Lanyer be content to stand forever in the shadow of a man, however great? She is an astonishing figure whose legacy has been completely eclipsed by that romantic—and wholly unproven—notion.
Hearing Rachel speak about the play I hear the tone of a hardened cop at a drug bust. Determined. With a penchant for justice. She wants people know Aemilia as the incredible woman she was rather than for Aemilia's alleged relationship to a maybe fictional historical figure. Yeah, I went there.
Walking through Hintonburg I was quite struck with how at ease Rachel seems to be. Passing her neighbours and hearing anecdotes, passing by houses she fought to save from aggressive developers, feeling Rachel just get lost in her stories; you can tell she has worked hard to get where she is and is more than happy to be there.
Rachel's curiosity, I suspect, is responsible for a lot of the things in her life. Her career is more of a quilt than a blanket, stitching together passions to make a living. She is an actor, Co-Artistic Director of Bear & Co., vocalist for the Dragon's Tea Trio, an opera soloist, author of an award-winning children's book The Pocket Mommy, freelance writer, editor, and now playwright. As a young artist and dreamer I am totally inspired looking at Rachel's life and at her accomplishments. Rather than succumb to The Man, she seems to have taken life and made it work for her… regardless of how insane taxes can be for multiple veins of freelance work.
Basically, go talk to her. Find Rachel at the Fringe Festival and don't be afraid to strike up a conversation. It's rare to meet someone so accomplished yet so humble and inviting. Even after our interview she apologized for talking "too much" and wants to hear all about me! Sit with her for a story. You'll be glad you did.
---
May and June are Membership Months. We're checking in and catching up with as many new members as possible—as well as some who have been around before the first Ottawa Fringe Festival in 1997. If you're a creator, know that the Ottawa Fringe is here to support your work year-round. Visit ottawafringe.com/members for info.