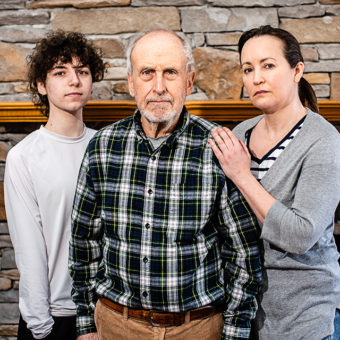 Transitions
Created by Ron Davies | Produced by Overbridge Productions | Origin: Ottawa, Canada
Venue 1 – Arts Court Theatre
Show Details
WINNER of the 2023 Hamilton Fringe New Play Contest. Family members from three generations— an ailing grandfather, a beleaguered mother and a transgender teen— struggle to understand each other's life changes… and to deal with their own…
Content Notes
A character describes a brief interrupted gender-related assault and a past suicide attempt.
Showtimes
Friday, June 16th

8:00pm

Saturday, June 17th

4:30pm

Monday, June 19th

6:00pm

Thursday, June 22nd

5:30pm

Friday, June 23rd

9:00pm

Saturday, June 24th

2:30pm
Buy Tickets
This premiere production is directed by Patrick Gauthier (winner of the 2022 Prix Rideau Award for Outstanding Direction) and features Michelle LeBlanc (past winner of the Prix Rideau Emerging Artist Award) and Peter Froehlich (recipient of a Lifetime Achievement Award from the National Capital Critics' Circle). It introduces to the Arts Court stage Algonquin College graduate Jay Quesnel. The play was written by Ottawa resident Ron Davies (two-time winner of the National One-Act Playwriting Competition.)
"An incredibly important piece that focuses on the only never-ending thing in life: change. Change of environment, change of circumstances, or even changes within yourself. 'Transitions' deals with all of these themes and more in a deeply-relatable piece." — Jordan M. Burns, playwright and Hamilton Fringe New Play Contest juror
"Part of the magic of this script is that there are three generations facing critical life decisions and …their issues cross over to the other generations. An important play… with a great deal of sensitivity to the issues… Beautifully written." — Sandra Nordgren, New Works of Merit (N.Y.)
"A really honest dialogue about how gender transition is not so different from a lot of major liminal phases that humans go through in their lifetime." — Salt & Sage sensitivity reader and screenwriter.