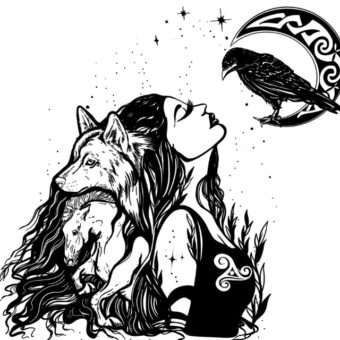 Stars, Stones, and Shadows: A Heroine's Tale
Created by Erica O'Reilly | Produced by Into the Circle Theatre | Origin: Ottawa, Canada
Show Details
Mysticism. Magic. And lore. Traverse into the shadows of our heroine's journey, into the Otherworld, sacredly held by some of Ireland's most ancient and prolific goddesses…
Content Notes
Abrupt Noise: there will be hand drumming throughout the show.
Showtimes
Thursday, June 15th

6:30pm

Saturday, June 17th

11:00pm

Sunday, June 18th

7:30pm

Wednesday, June 21st

10:30pm

Saturday, June 24th

8:00pm

Sunday, June 25th

2:00pm
Buy Tickets
With the sturdy guidance and powerful presence of Queen Macha, the Morrigan, and Brigid, our heroine goes within, as she remembers:
Her feelings are nothing to fear.
Her magic is her gift to the world.
Her voice is her power.
And her healing is hers to weave – if she is open to listening to the wisdom of her body and spirit.
Inspired by Irish mythology and the work of Maureen Murdock (The Heroine's Journey: Women's Quest for Wholeness), "Stars, Stones, and Shadows: A Heroine's Tale" will enchant audiences' hearts and souls as they dance between realms during this theatrical gathering.
For just as the spirit, the land, and the goddesses of Éire (Ireland) illuminates our heroine's path of remembrance, healing, and reclamation; this journey together may just inspire your own.