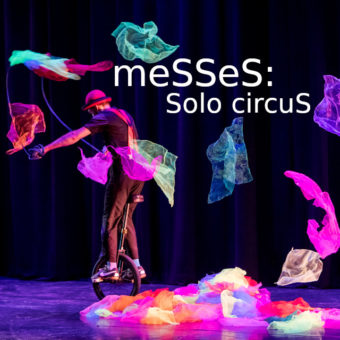 meSSeS: Solo circuS
Created by Janoah Bailin | Produced by janoah...anygoodjokes? | Origin: Portland, USA
Show Details
Winner of "Spirit of the Fringe" at the 2022 Elgin Fringe Festival, "meSSeS" is an evening-length solo circus-theatre-dance performance perfect for all ages! …
Content Notes
Audience Participation: "Optionally interactive" – audience members are encourage to learn and practice juggling during the show.
Showtimes
Saturday, June 17th

5:00pm

Sunday, June 18th

9:00pm

Monday, June 19th

10:00pm

Thursday, June 22nd

7:30pm

Saturday, June 24th

3:30pm
Buy Tickets
janoah…anygoodjokes? juggles several tasks simultaneously … performing & teaching! During this (optionally interactive) experience YOU learn to juggle while you watch. In moments between acts, Janoah engagingly guides the audience through the essentials: throwing, catching and (of course) messy-ing up!
Part performance, part workshop, entirely entertaining, Janoah immerses audiences in a whimsical exploration of metaphor. Precarious unicycling, shimmering puppetry, jaw-dropping juggling, mesmerizing motions, meticulously prepared hot beverages … Janoah tosses together art forms to tell a tale of learning & labor, emerging ecstatically from a haphazard pile of props.
And (of course!) what circus would be complete without popcorn & banana peels?
Learn more: https://www.janoahanygoodjokes.com/messes