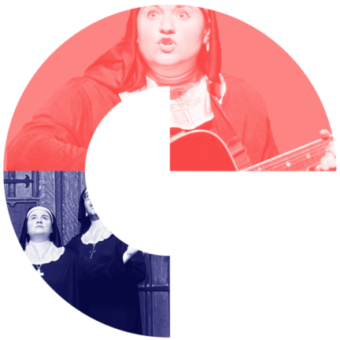 Show Details
Created by Cullen Elijah McGrail & Alli Harris. Juliana just wanted to write another best-selling book about animals. Sister Philippa just wanted to be Juliana's most devoted follower. But was it God or Nature who led the two Sisters deep into the forest? Who separated them and sent them paths full of trials, tribulations, and musical numbers? Who is going to make sure they leave the woods as completely different women…
Content Notes
Created by Cullen Elijah McGrail and Alli Harris
Directed by Cullen Elijah McGrail
Book by Cullen Elijah McGrail
Music and Lyrics by Alli Harris
Performed by Alli Harris, Michelle Gendron, and Sam Woods
Ottawa, ON / Dover Centre, ON
Please note that this production does not allow latecomers.

For content notes click here.
Showtimes
February 16

February 17

February 18
Juliana just wanted to write another best-selling book about animals. Sister Philippa just wanted to be Juliana's most devoted follower. But was it God or Nature who led the two Sisters deep into the forest? Who separated them and sent them paths full of trials, tribulations, and musical numbers? Who is going to make sure they leave the woods as completely different women…
Hot off the Fresh Meat 10 stage, this is a work-in-progress presentation of an original Canadian musical from Alli Harris and Cullen Elijah McGrail. In 'Juliana', you'll discover what it means to influence, what it means to follow, and how it can all go so terribly wrong.
---
Alli is an Ottawa-based Actor, Creator, and Composer, most recently she premiered her new solo show, "CAMP BFF4E"(undercurrents). Alli is a two-time Prix Rideau Award Winner who has toured across Ontario and featured in the #CanadaPerforms (National Arts Centre). She streams music on Twitch weekly (alliharrismusic). For more updates and music – www.alliharris.ca.
Cullen is an emerging playwright whose work has been seen at the Ottawa Fringe Festival, Youth Infringement, and most recently at Fresh Meat 11 where he premiered 'The City Aquarium is Proud to Present: The Marvelous Mermaids of Merriment™'. He is currently developing two full-length plays, 'Wind' and 'discarded', plus an untitled debut novel. — cullenelijah.ca @cullen_elijah
---
Awards
Alli
Winner — Prix Rideau Award for Emerging Artist (2018)
Winner — Prix Rideau Award for Best New Creation, "High School High" (2018)