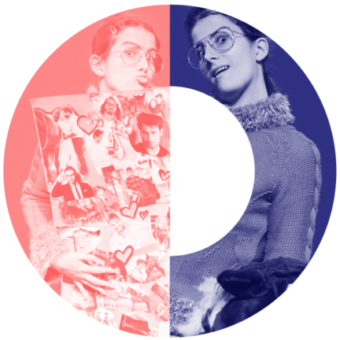 BETH-ANNE
Venue 1 – Arts Court Theatre
Show Details
Meet Beth-Anne! A horse-loving girl who is chomping at the bit for her happy ending. She just needs the confidence to ask out her crush…
So Beth-Anne turns herself into a horse.
…nothing is more beautiful than a horse, of course.
Showtimes
February 16

5:30 pm

February 17

5:30 pm

February 18

5:30 pm
More details
Beth-Anne is a hilarious, fast-paced solo comedy about a journey of self-acceptance. Beth-Anne explores (in her own extreme fashion) the desire to be something other than what we are.
Will Beth-Anne transform from an awkward girl into a world class show pony – yay or neigh? Come horse around with her to find out.
Please note that Beth-Anne eats many food products throughout the show (carrots, apples, pasta noodles, water) and spits them onto the stage floor. It is gross.
This show contains audience participation. However, everything is low-risk! Audience members are asked to hold an object for Beth-Anne that she later retrieves. If audience members are comfortable they are invited to get out of their seat, walk onstage, and give Beth-Anne these objects.
Institutional, there is a scene in a hospital where someone dies (it is comedic and the tone is very light). Beth-Anne is also chased by animal control and police sirens are used.
Awards
Monica Bradford-Lea:
WINNER: 2019 Best of Toronto Fringe: In Waking Life
WINNER: 2019 Mooney On Theatre Critic's Pick: In Waking Life
NOMINEE: 2019 Prix Rideau Award, Emerging Artist
NOMINEE: 2019 Prix Rideau Award, Outstanding New Work – A Period Piece
NOMINEE: 2019 Prix Rideau Award, Outstanding New Work – Light(less)
Nicholas Leno:
NOMINEE: 2021 Ontario Arts Council Pauline McGibbon Award
NOMINEE: 2019 Prix Rideau Award, Emerging Artist
NOMINEE: 2019 Prix Rideau Award, Outstanding New Work – Light(less)