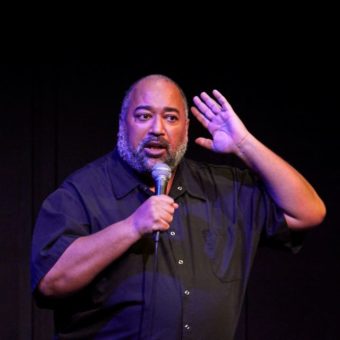 All Request Radio
Created by The Velvet Duke | Produced by Velvet Duke Productions | Origin: Ottawa, Canada
Show Details
"Playing your favourite made up songs!" All Request Radio is an improvised jukebox musical creating instant nostalgia. Join award-winning emerging artist The Velvet Duke in the daring world of CKVD 995 FM — a radio station where the DJ freestyle sings the top 10 songs, without knowing the music ahead of time…
Content Notes
At the top of the show, the audience can volunteer to submit electronic submissions. Audience members are allowed to sing along. One person may be selected as a prize winner.
Showtimes
Thursday, June 15th

8:30pm

Friday, June 16th

6:00pm

Saturday, June 17th

4:00pm

Sunday, June 18th

5:00pm

Wednesday, June 21st

8:30pm

Thursday, June 22nd

11:00pm

Friday, June 23rd

7:00pm

Saturday, June 24th

9:00pm
Buy Tickets
Every show, submit your made up song titles for a chance to win real swag. You won't be made to sing along, but you might want to anyway! OPTIONAL: Submit your favourite song today! https://bit.ly/ARRoff Show Program (mobile-friendly): https://bit.ly/ARRprog
The Velvet Duke (they/them) is the 2023 Ottawa Arts Council "Emerging IBPOC Artist" laureate.
In 2022, they won the "Emerging Artist" award from Ottawa Fringe Festival and JRG Society for the Arts, as well as the "Most Accessible Show" award at Halifax Fringe Festival.
They were finalists for five awards at the Prix Rideau Awards (2022)
*Masking required for this production. All performances will have ASL Interpretation and open captions (machine automated transcription). 
Audio Note Transcript here.