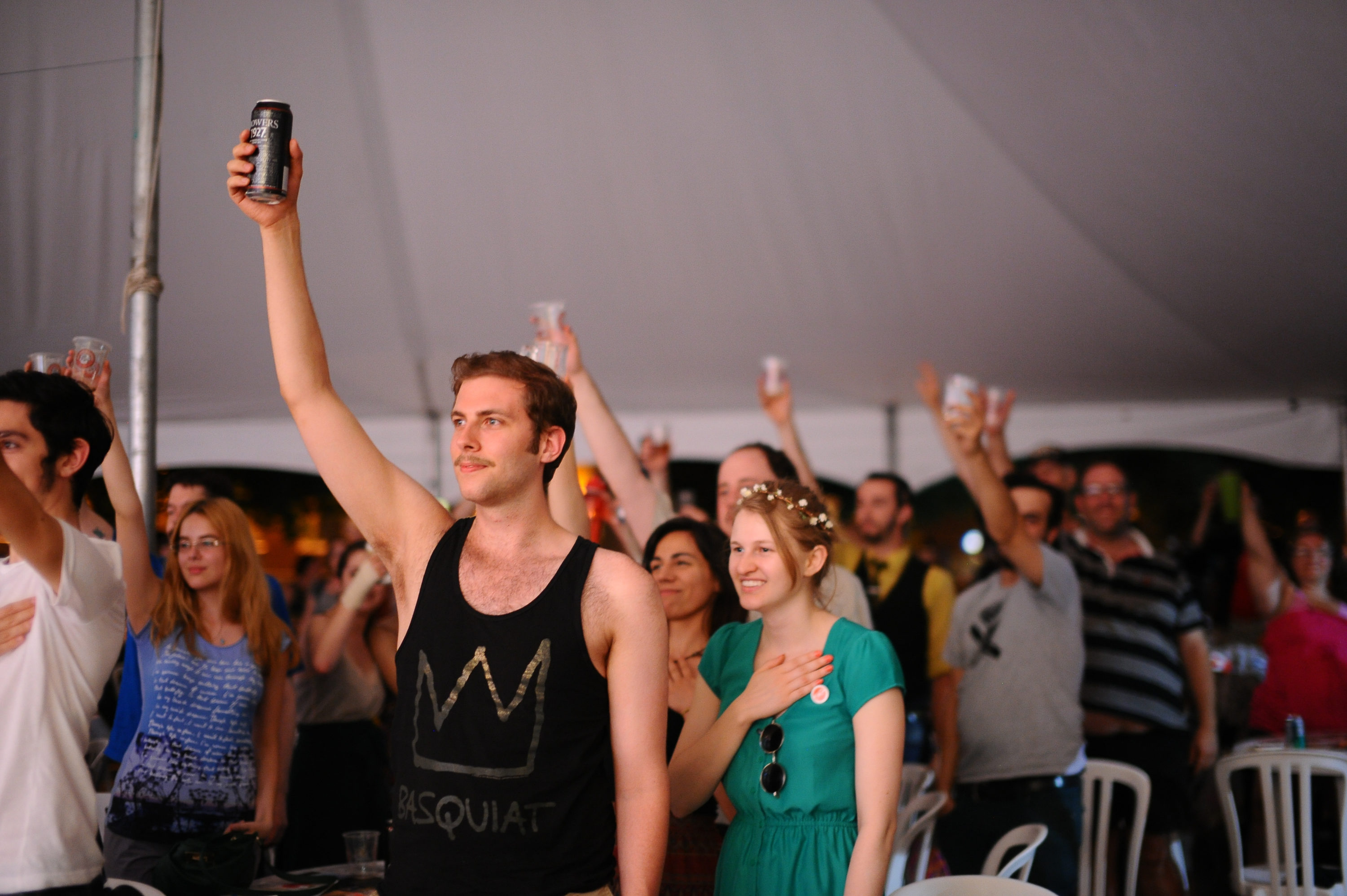 BRAND NEW LOCATION
June 8–18 @ Tabaret Lawn

We're celebrating our 20th anniversary by moving our Beer Tent to a brand new location!
Located on Tabaret Lawn on the University of Ottawa campus – just steps away from Academic Hall, Studio Léonard-Beaulne, and a host of BYOVs – it is THE place to meet friends old & new, grab a drink and a bite to eat, share stories and ask "What have you seen? What should I see?"
| | |
| --- | --- |
| Beer Tent Hours | |
| Monday – Thursday | 5pm – 1am |
| Friday | 5pm – 2am |
| Saturday | 2pm – 2am |
| Sunday | 2pm – 1am |
Preview Night
7pm 'til late, June 7 @ Arts Court Theatre (2 Daly)
Doors to the Studio bar open at 7pm. In the Theatre, a series of performers will have two minutes each to pitch their shows. Free admission and cash bar. Hosted by Leslie Cserepy.
FRINGE MUSEUM
Open June 7-18, 5-10pm on weekdays, and 2-10pm on weekends @ Gallery 1 – Arts Court (2 Daly)
We've spent the past year digging through the Ottawa Fringe archives to bring you memories of your favourite festivals. With artifacts spanning our 20 years, the museum is a must-see whether this is your first or twenty-first Ottawa Fringe.
See the first Fringe program! Marvel at our collection of pins! Amaze at how young you used to be! Free admission.
1997 Party
9:30pm 'til late, June 10 @ Beer Tent, Tabaret Lawn
Don't miss this party, where we'll dance like it's the late 90's way past curfew. Free admission. Music by DJ AL Connors.
(un)told: Original Stories, Told live
8 to 10pm, June 12 @ LIVE! on Elgin (220 Elgin)
(un)told: a monthly Ottawa event for sharing true stories, told in 5 minutes, with no notes, props, or set, is hosting a special Fringe Fest edition! Come hear true stories told live from your fave Fringe artists June 12 at Live! on Elgin. Free admission.
Closing Night Awards Party
10:30pm 'til late, June 18 @ Academic Hall & Beer Tent
Join artists, audiences, volunteers and staff as we say farewell to the 21st Ottawa Fringe Festival. Raise a toast to award winners (Outstanding Production, Emerging Artist, etc.) and stay up late for one more night. Free admission.