What's a Fringe encore?
A weekend double bill that milks the cow for shows THAT HAVE BEEN HIT AT FRINGE FESTIVALS, OTTAWA AND BEYOND.

This year Ottawa Fringe will host two Fringe Encore weekends – October 5/6, 2018 & April 26/27, 2019.
Each weekend will host two shows that have been a hit at any Fringe festival from any year.
Catch that show you missed, see your favourite again, or finally experience the show you keep hearing about, but it never seems to swing by Ottawa.
tickets
General admission $18 | Double bill $30
OCTOBER 5TH & 6TH SHOWS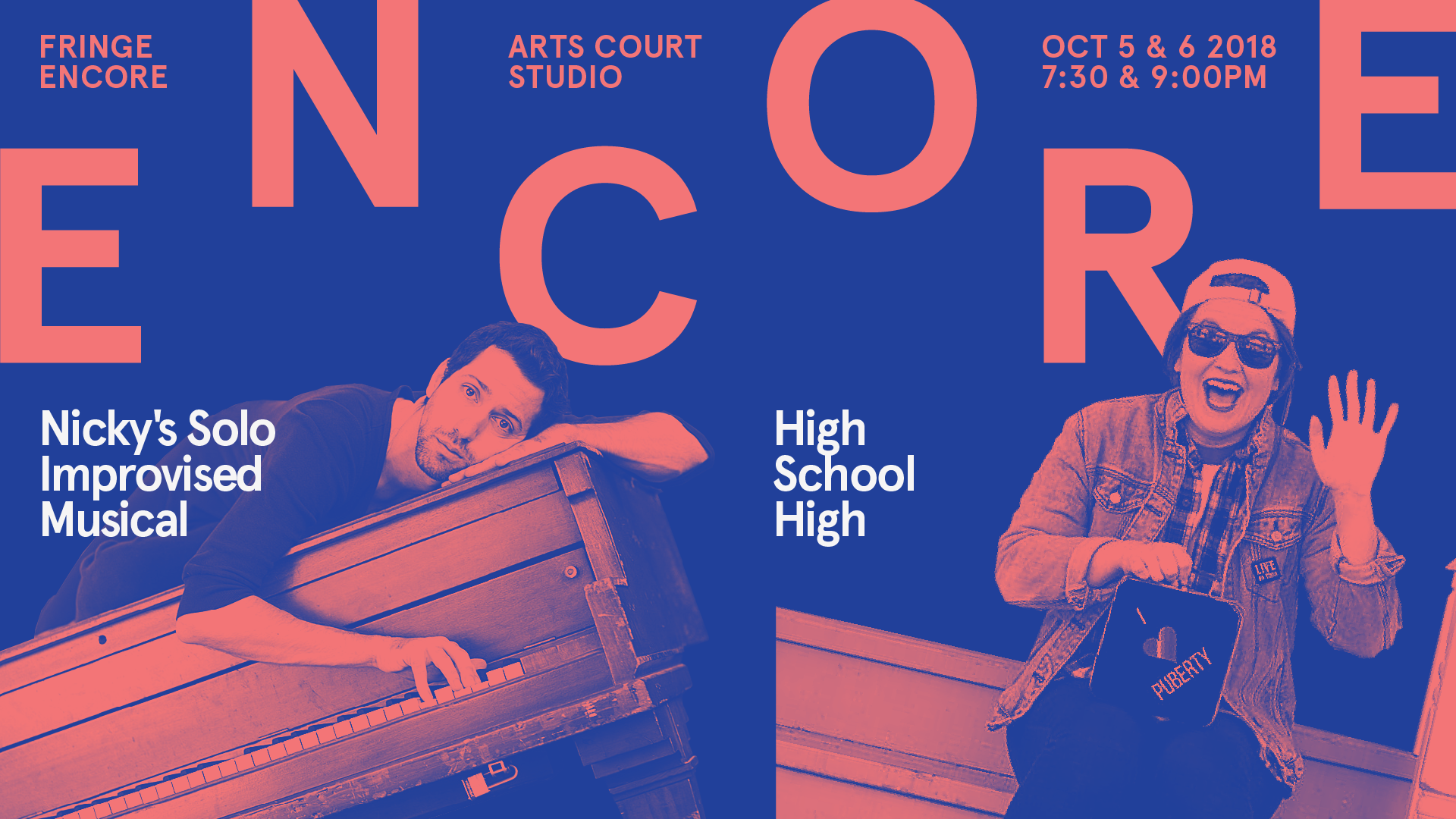 HIGH SCHOOL HIGH – What really went down in the French portable? Did your mom drop you off too close to the front of the school, and you're still pissed? Did your friend sell you drugs, but it was actually just a bag of oregano?
High School High is a one woman musical comedy created and performed by Alli Harris and Directed by AL Connors (Canadian Comedy Award Winner, Prix Rideau Award Winner for Outstanding Direction, and BEST OF FEST Ottawa Fringe 2017 for his solo show DJ Detective.)
"This one's selling out due to much deserved buzz. Don't wait for the door to get these tickets loves, and don't wait until Harris costs ten times as much to see. I'm sure it won't be long." – Brenda Dunn, Apt613
Fri. Oct 5th – 7:30pm
Sat. Oct 6th – 9:00pm
NICKY'S SOLO IMPROVISED MUSICAL – With nothing but a piano and a very talented musical director on stage, Nicky uses his undeniable charm and vocal prowess to create a brand new, never before written musical based on audience suggestions. Nicky's spontaneous and hilarious melodies, lyrics and characters that will leave you wondering how he did it!
WINNER: NY Frigid Fest 2017 Participant's Favourite, WINNER: NY Frigid Fest 2018 Audience Choice
"[Nicky's] performance is seamless, his inventiveness truly astonishing… An endlessly talented performer." – Michael Lake, The Coast, Halifax
Nicky's Solo Improvised Musical Tickets:
Fri. Oct 5th – 9:00pm
Sat. Oct 6th – 7:30pm
April 26th & 27th Shows
That's top secret… for now.  Stay tuned for an announcement about our April Fringe Encore Series!
DOUBLE BILL TICKETS